Why I Love Toronto
There are a lot of reasons I love Toronto, but one of them is eye, the local 'alternative' lifestyle newsmagazine. While it's often full of itself and has a vaguely condescending tone to the writing, I still love flipping through it to find out what's going on in the city, and daydream about when I'll be able to afford going to all these artsy plays and concerts.

However, as anyone who reads knows, the absolute best part of these things are the personal ads. "27 y.o. SWM seeking A/BM to suck on. Not gay, but bi-curious"; "Sexy beautiful busty long hair brunette wants to please you. Orally gifted" and such.

But this? This takes the proverbial fucking cake.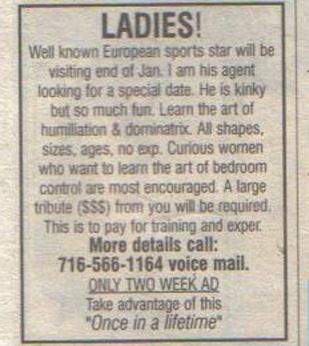 Are you KIDDING me? As I told the boyfriend, I want an agent that travels the world looking for people to give me money to fuck me. God. What a life!
|