Knee High Sox... and Schoolgirls
Once upon a time, the sexiness of socks was discussed. Ankle socks, it was noted, should be removed before having sex, but knee highs? They were cute. They could possibly stay (as could knee-high boots).
In homage to the knee high, and cute schoolgirls everywhere, I spent the entirety of last night scouring the internet for pictures. It was a tough job to find pictures of women wearing those socks and other clothing, and because this wasn't to be a gallery full of nudes, I had to pick and choose carefully.
These, then, are my choices:
Okay, so it's thigh-high stockings. Still, it was too cute to pass up, especially with those seams up the back, so we'll get this little bit of cheating out of the way first. By the way, that particular style is called a 'Cuban Heel' and you'll notice that there's a diamond-shaped solid patch covering her heel from which the seam rises. Oh, and I like her corset :) And her hair :)
A flock of schoolgirls! There's a Catholic high school somewhere close-ish to here, so we very often get to see young women who look much like this (though their uniform is more maroon than cherry red) prancing around outside or through the mall across the street. I'm really tickled by the fact that they have their shirts tied up.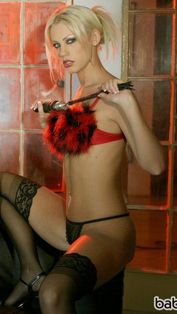 Hot hot hot. I could totally go for coming home to her waiting in my bedroom for me (okay, so I don't leave home much, but that doesn't change that I'd like to have her there). This came from a series of pictures of a pair of women, but I cut out the other woman because she was fairly trashy looking and she wasn't wearing the requisite knee highs! I love the riding crop.
This girl could possibly be wearing knee highs. But there wasn't a picture showing her legs, until they were up in the air doing some crazy splits and she was totally naked. I cropped her head off because she had this completely vapid deer-in-the-headlights look to her, but I thought her outfit was fucking adorable so had to include it.
After scrolling through thousands of pictures, I literally stopped and stared at this one. The girl herself is absolutely lovely. Just look at how big and blue her eyes are and how dark her hair is... I don't know. I wish now I'd picked another picture of her that better showcased her face and was a bit less about her bum.
And now, something that made me stop and laugh in my searching: Google Images was kind enough to turn out this picture for me while I searched for "knee high model" (thankfully, no midgets showed up, though I did later find a gallery devoted to them, which I didn't explore):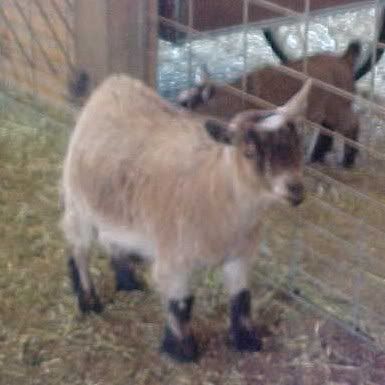 That's it! Most of these pictures are courtesy links from http://www.xnxx.com, which is a huge source of free images and movies -- WITHOUT pop-ups.
Oh, and, after all the hours we spent peeking at pictures and movies, laughing about the different taglines on websites ("When they have their stockings on, they're naughty!"), and admiring the women... we had some wicked sex!
|