10 Moments... and Some Ass.
So, it's day two of "Tatiana as a Mute", installment four in the "Tatiana is Wicked Sick (And Not In A Good Way)" series. To celebrate my inability to speak -- and believe it or not, it's really pissing my boyfriend off that I don't talk, he says it's depressing -- this post is exploring 10 moments in Red Sox baseball that have left me (momentarily) speechless.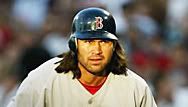 1. The first time I saw the picture above. I know, I know, I've used it here before. That doesn't make him any less hawt, and frankly divine.
2. Realizing that I was in love with Nomah.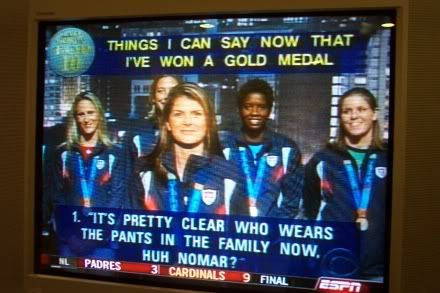 3. Realizing that Nomar was not in love with me.
4. When Nomar got traded. No, really, he got traded. I know, I still question it myself, and I wonder whether Theo or Bronson has bigger balls.
5. Dude, we did what? And Mr. Mia Hamm wasn't on the team? Are you for fucking real?
6. July 29, 2003: Billy Mueller's three home run game. Where two of them were grand slams... from different sides of the plate.
7. Sitting with my mother, in Connecticut, watching the last game of the regular season in 2003, on NESN. Hearing Jerry Remy chirp, "Buenos noches, amigos!" and knowing that was the last game I'd watch on NESN for a long, long time.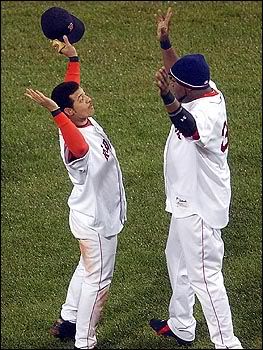 8. The first time I saw Orlando Cabrera make an unbelievable, Superman-esque catch and thought, "Wow, I don't know if Nomar could've done that."
9. When Big Papi bounced a ball to me over the top of the Blue Jay's visitor dugout, and the asshole next to me snatched it up. Then Ortiz pointed at me, said nothing, and gently rolled a ball in my direction. Fucker is bad luck to hold on to while watching games on TV, but it sits under my monitor all the time. Ortiz is about the most huggable, loveable scary-man that I've ever laid eyes on.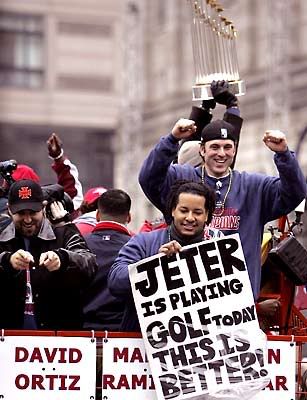 10. What else could this possibly be? 86 years since the win. An 86-run ALCS. 1986: Last World Series appearance. A fucking eclipse, which has provided the loveliest desktop wallpaper for me for months now. Our. World Series Champion. BOSTON RED SOX. It still makes me giddy.

Oh, and, not related to baseball, but to lovely women: a gallery of NFL cheerleaders. Ohhh yeah.
|