Try this on for size: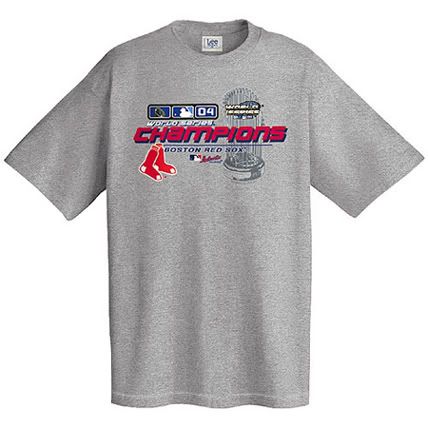 Feels fuckin' good, doesn't it? I don't know what else to say. I know that I'm thrilled with our boys, and that I am a proud fangirl of a World Championship team. I know that I didn't all of the sudden lose my reason for existing and curl up in a fetal position, now that an 86 year long drought has been broken. As much as my boyfriend has expected me to, I'm fairly certain he's pleased that I didn't. I'm so happy for my uncle, who years ago said to me, his voice thick with yearning, "I just want to see them win it before I die." Well, Uncle Vic, you've still got half your life ahead of you, and they did it. I'm so happy for my fourteen year old brother, who after the Nomar trade was furious with the team, not understanding why his idol had been shipped away, but who can now don his World Series 2004 cap and know he has an entire organization to idolize. What fan could not see and hear the admiration of those players for us, in all the post game interviews? What fan could not feel their relentless gratitude for our support, for us keeping the faith? There, Jared, is something to aspire to: a brotherhood of appreciation.
I started crying after the second our of the ninth inning. The camera cut away from the field to show David Ortiz, pointing with both hands up towards the sky, shaking his fingers slightly and smiling broadly as he whispered. He held up one finger, and a sparkle came to his eyes; he raised his other hand again and spoke once more. How sweet, I thought, he's praying! A moment later, I realized he wasn't "praying" in a traditional sense -- he was talking to his mother.
We have a World Champion team in every sense, people. They are not just sports icons, but role-models of a personality, a lifestyle, and a fortitude that we should all aspire to.
It's time for a dynasty.
|